Board of Directors
Gabrielle Rousso, Board Chair
Gabrielle Rousso has lived in Chapel Hill for four years. Gabrielle has worked in the arts in both non-profit arts management and administration, as well as design, throughout her career in Illinois. She was the Executive Director of a Fine Art School with multiple community Galleries in the Chicagoland area. Throughout her career her focus has been on the creative, as well as business side of the arts.
Donna Stubbs, Artist Membership Chair
Donna is a Member Artist at FRANK, where she exhibits her mixed media acrylic paintings. Donna is from Mt. Airy NC. She has worked as an arts fundraiser for various arts organizations including the Durham Arts Council and the Corcoran Museum of Art. While pursuing her art career, she worked as a commercial interior designer in Washington DC.
Mike Keyes, Vice Chair
Mike has had a successful career in art operations, serving in executive positions with Art.com, Pictureframes.com, and Circle Graphics.  Currently he consults with a number of e-commerce companies in improving their overall performance.  Mike has a degree in Physics from Miami University and an M.B.A. from Duke University.   Mike and his wife enjoy volunteering locally and living the empty-nester life in Cary.
Gordon Jameson, Secretary
Gordon is a member artist and one of the founding members of FRANK. Gordon has been a professional artist for over three decades. He has extensive experience in working with arts organizations. Gordon is one of the founding members of Orange County Artist Guild and he served on Board of Directors of Orange County Artist Commission since 2000. Gordon lives in rural Orange County with his wife where he enjoys gardening, cooking and fine dining.
Diane Amato, Treasurer
Diane is originally from Massachusetts where she worked as a Program Manager for General Electric. After moving to North Carolina in 1995 she became very involved in art and philanthropy. She opened a photography studio, photographing artwork for local artists as well as making and exhibiting her own work.  Diane works at Chris Arena, CPA, and is currently on the boards of Liberty Arts and is the Board Chair of Trinity Park Neighborhood Association. She is also on the Advisory Committee for Durham Tech's Associate Degree in Fine Art program.  She served on the boards of Durham Habitat for Humanity Restore as Treasurer and then President and the Chatham County Arts Council as Treasurer. In 2009 she founded The Art of Giving, a giving circle committed to granting money to non-profits in the Triangle whose programs benefit women and children.  Since its inception, $170,000 has been awarded.  
Danny Bell
Danny is an active and enrolled member of the Lumbee and Coharie American Indian Tribes of North Carolina. He recently retired after 18 years as Program Coordinator for the Curriculum in American Indian Studies at UNC. Danny served to support the awareness and inclusion of American Indians in Carolina's mission and activities.   Danny was employed by the NC Commission of Indian Affairs for 14 years, serving in cultural, education, employment and community programs, with continued involvement with the annual Indian Heritage Month Celebration. Danny is a retired military veteran, US Army 440th Army Band.
Megan Gardner
Megan is an executive with a Chapel Hill-based software company with a primary focus on client services, marketing, and operations. Originally from Maryland, Megan called the Northeast home for many years while working in professional sports in Boston. Megan holds an undergraduate degree from Villanova University and a graduate degree from the University of Massachusetts and now calls Chapel Hill home. 
Brand Fortner
Brand is teaching professor at North Carolina State University and adjunct professor of physics at University of North Carolina at Chapel Hill. He is considered an expert in accessible scientific visualization and in technical data formats. He previously was chief scientist of the intelligence exploitation group of the Johns Hopkins University Applied Physics Lab, and is the founder of two scientific software companies: Spyglass, Inc, the original publisher of the Mosaic web browser, and Fortner Software LLC, a leading developer of Macintosh based scientific visualization tools. Dr. Fortner previously held positions at NASA and at the National Center for Supercomputing Applications, and has written two books on color vision and technical data: Number by Colors, and The Data Handbook. He holds a PhD in astrophysics from the University of Illinois and funded a chair in astrophysics at that university (along with a second chair in physics at North Carolina State University). He also co-sponsors a film festival at that university. Brand is active on both corporate and nonprofit boards.  He is an art collector and a big fan of FRANK Gallery.
R. Scott Horner
With a background as an award-winning visual journalist and pioneering interactive storyteller, Scott went on to found a successful healthcare technology company now located in Chapel Hill. Scott is an abstract painter working primarily in acrylics. He is a member artist at the FRANK Gallery and belongs to the Orange County Artists Guild.
Jeremy Howell
Jeremy is the co-creator and managing director of Art & Object, a fine art news website and art marketplace that reaches millions of art lovers around the world. He holds an M.B.A. from UNC-Chapel Hill's Kenan-Flagler Business School. He was formerly a producer of the nationally syndicated PBS show Baby Makes 3. In addition to his board membership at FRANK Gallery, he is a founding board member of The Teenage Cancer Health Alliance, a charitable fund that focuses on pediatric cancer patient mental health outcomes. A collector from a young age, Jeremy is deeply passionate about cultural objects. He has a particular love for antiquarian books, coins, vinyl records, and, of course, art.
Scott McConnell
Scott moved to Chapel Hill in 2005 and graduated from UNC with a degree in psychology with a concentration in neuroscience. His current academic interests vary widely from material science to marine biology. He decided to settle down here and now Scott is currently the Chief Technology Officer at a mental health diagnostics software company in town. In addition to being a musician, he has always had a deep appreciation and respect for the visual arts.
Luna Lee Ray
Luna is a founding artist member of Frank, and has served as its lead curator since 2011. She received her BFA in painting and printmaking from the Pacific Northwest College of Art in Portland, Oregon. Since settling in North Carolina in 1998, she has exhibited widely throughout the Triangle area and beyond. Luna also teaches intermediate -advanced level watercolor, acrylic, and mixed media classes for adults through the Carrboro ArtsCenter. 
Carol Retsch-Bogart
Carol is originally from Ohio and attended the University of Cincinnati as an undergraduate and Ohio State University for her Masters degree in Social Work. After eight years in Minneapolis, she moved to Chapel Hill in 1986 when her husband began his fellowship at UNC and then joined the faculty in the Department of Pediatrics. Carol worked as a social worker at Duke University for 30 years in the employee assistance program and maintained a concurrent psychotherapy practice. She retired in 2017 which afforded her more time to devote to her art and become a member of FRANK Gallery. She has been an artist with FRANK from its beginning which she credits for paving the way for her second career.
Janis Treiber
Janis Treiber has lived in North Carolina for over 20 years, and has served visitors across the state for the last seven at the North Carolina Museum of Art. Throughout this journey, she has collaborated with many departments in the Museum, as well as community partners. Currently, her role as Director of Visitor Experience and Retail, she is responsible for locating and supporting emerging artists and artisans from North Carolina by featuring their creations in all NCMA Stores. She enjoys sharing their stories and exploring innovative partnerships.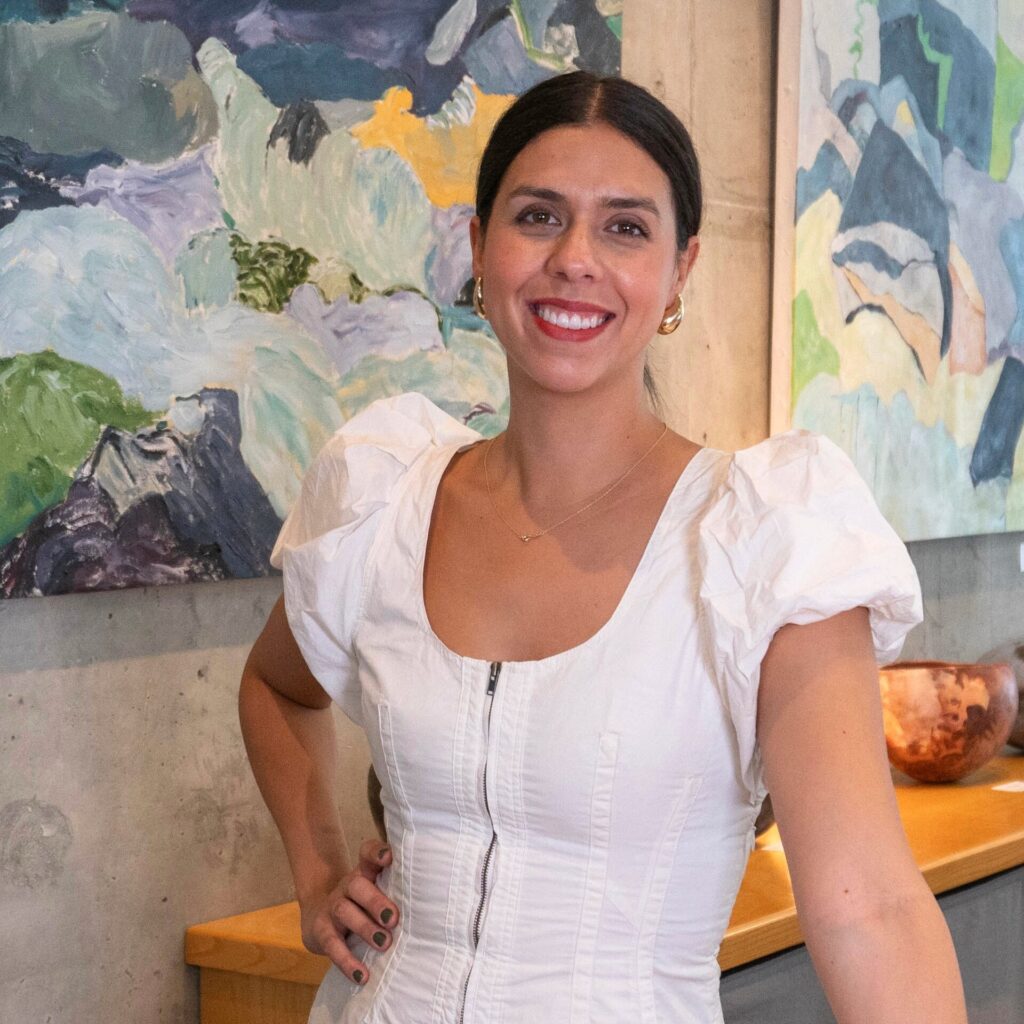 Gallery Director
Natalie Knox 

Natalie joined FRANK in 2017. She holds a BA degree from University of Texas at Austin in European Studies with a minor in Art History.  She has extensive experience in retail management and merchandizing, and is a mosaic artist.
"I am so excited to be working with the Frank Gallery, members of the board and all the artists. Not only is Frank a welcoming and beautifully diverse art gallery but the members are so socially aware and allow the gallery to act as a major player in community outreach programs. 
Being in an environment exposed to so many creative and entrepreneurial people is such an inspiration and I truly believe that the potential for Frank is limitless and I am so excited to be a part of its growth!"